Trade and economic cooperation
The Czech Republic is among twenty main trade partners of Belarus. In the year 2020, the Czech Republic ranks 19th in terms of commodity turnover, 25th in terms of exports and 15th in terms of import volume among all the trade partners of the Republic of Belarus.
Dynamics of Foreign Trade of Belarus with the Czech Republic
Goods (methodology of foreign trade statistics)
USD Millions
| | | | | | |
| --- | --- | --- | --- | --- | --- |
| | 2016 | 2017 | 2018 | 2019 | 2020 |
| Overall trade | 276,9 | 290,2 | 373,7 | 358 | 331,7 |
| Export | 84,4 | 92,7 | 117,5 | 118,3 | 119 |
| Import | 192,5 | 197,5 | 256,2 | 239,8 | 212,7 |
| Balance | -108,1 | -104,8 | -138,7 | -121,5 | -93,7 |
According to the National Statistical Committee of the Republic of Belarus (BelStat), in 2020 trade turnover in goods amounted to USD 331,7 million, or 92.7%, year−on−year (y−o−y). The Belarusian exports to the Czech Republic amounted to USD 119 million, or 100.7%, y−o−y; the exports excluding oil products, petroleum gases and potash fertilizers amounted to USD 106,1 million, or 96.4% y−o−y. The imports amounted to USD 212.7 million. The trade balance deficit reached USD 93.7 million which represented a decrease by USD 27,8 million, y−o−y.
Belarusian companies export to the Czech Republic steel and aluminum products (pipes and profiles, steel rods, metal structures from ferrous metals and aluminum, hardware); cables, petrochemical products (mineral fertilizers, synthetic threads, polyamides, synthetic filament, heterocyclic compounds, fiberglass, polycarboxylic acids, polyacetals and polyesters, other plain, epoxy resins, monofilament, plastic profiles, ammonia); wood processing and paper industry products (sawn timber, plywood, chipboard and MDF panels, furniture, paper napkins and towels, cardboard reels, etc.); instrumentation products (communication equipment, refrigerators, washing machines, electrical devices for traffic control, measuring and controlling equipment for the liquids and gases, computers, air or vacuum pumps, compressors and fans); engineering products and parts for it (special-purpose machines and mechanical devices, tractors, parts for electric motors and installations, engines and power equipment); building materials (soft roofing materials, slag, structural engineering, plastics and plant materials plates, ceramics sanitary ware, polished glass); peat, lead, raw flax, food products.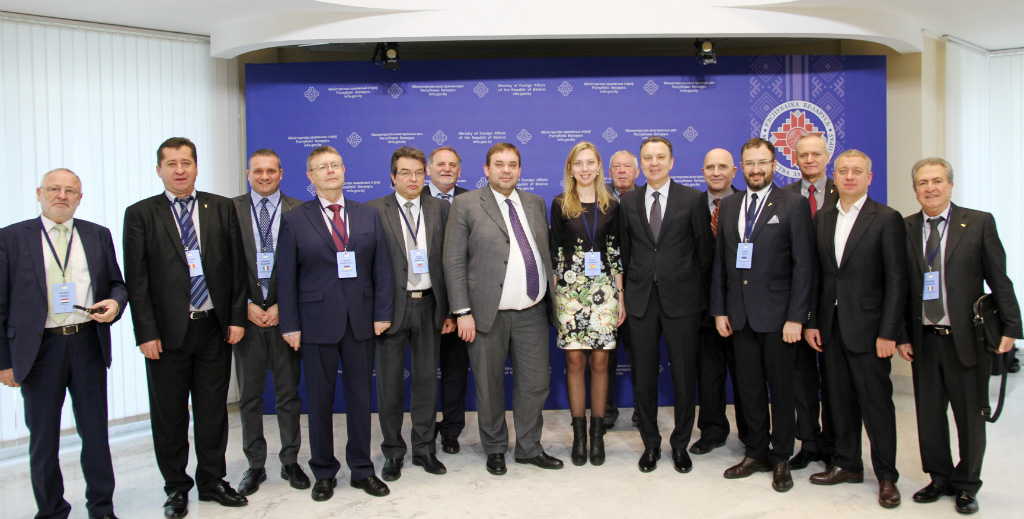 The most important positions of imports from the Czech Republic in 2020 include: computers for automatic information processing, liquid pumps, electrical devices for ensuring safety and traffic control, valves for pipelines, air conditioning installations, cable products, food products, medicines, parts of the mobile composition, transmission mechanisms of machines, equipment and vehicles, pipes, tubes, hoses and fittings made of plastic, batteries, equipment for heat treatment of materials, containers for compressed or liquefied gas made of ferrous metals, passenger cars, centrifuges, equipment and devices for filtering liquids or gases, consoles, panels, tables for electrical equipment, agricultural machines for preparing and cultivating soil and their parts, equipment for controlling electric current for a voltage of not more than 1000 V, parts and accessories for cars and tractors, communication equipment and parts to it,ferrous metal products, tableware and kitchen glass, aluminum foil, metal-cutting machines, industrial furnaces and furnaces, electric motors and generators, air or vacuum pumps, compressors and fans, broadcasting or television transmission equipment, other plastic products, vaccines, blood serums, blood, parts for machines and devices, products for animal feeding, beer, finished pigments, enamels, glazes, gloss, devices and devices used in medicine, machines and mechanical devices for special purposes, tires.
In 2020, the volume of mutual services amounted to 127.7 million dollars (80.2% to the level of 2019), the export of Belarusian services — 109, million dollars (88.5% to the level of 2019). The current balance for the Republic of Belarus is positive — $ 91.5 million (increased by almost $ 3 million).
Export of computer, telecommunication, information services amounted to 69.1 million dollars (63% of the total), transport — 31.7 million dollars (28.9% of the total). A significant item of export of services is the provision of other business services (up 5% to $ 7 million), in particular, other services ($ 1.9 million), architecture services ($ 1.5 million) and advertising services, marketing, organization of exhibitions, the positive dynamics of which demonstrates mutual interest in participating in international exhibition events ($ 2 million).
In 2020, the inflow of investments amounted to $ 47 million, (209% by 2019), of which direct investments — $ 32.9 million. As of January 1, 2021, the total volume of accumulated investments from the Czech Republic amounted to $ 146.4 million, including direct investments — $ 108.5 million.
More than 100 enterprises with Czech capital are established in Belarus. Companies with Czech capital are working in different spheres of the economy — IT, the production of automation tools for transport, engineering and construction services, trade, industry, etc.
Since 2009, the Belarusian-Czech Intergovernmental Commission on Economic, Industrial, Scientific and Technical Сooperation has been held annually to support mutual trade. On April 17 and 18, 2019 the 11th Session of the Belarusian-Czech Intergovernmental Commission took place in Prague.
Within the framework of the Joint Commission, the Parties created six Belarusian-Czech working groups for cooperation in the fields of energy, engineering, transport, agriculture and food industry, forestry, and scientific, technical and innovative cooperation. The Belarusian-Czech working group for cooperation in the fields of energy demonstrates the most promising agenda and meets twice a year.
In addition, since 2017, consultations on trade and economic issues between the Ministry of Foreign Affairs of the Republic of Belarus and the Ministry of Foreign Affairs of the Czech Republic at the level of heads of economic departments have been practiced. The Czech delegation was also attended by the Director of the Department of Foreign Economic Policy of the Ministry of Industry and Trade of the Czech Republic